David Hockney; famous bespectacled Yorkshireman. I knew of him as an artist, the painter behind idyllic landscapes, and some very cool photography collages. The Tate Britain's retrospective titled simply, 'HOCKNEY' is a different picture entirely; on canvas, paper, polaroid and tablet.
Behind everything is a raw talent. Evocative graphite and charcoal sketches line one room. The immense dexterity Hockney has in his work is cemented in this room. Some of the most moving sketches are almost the ghost of a figure, but with more character on show than many classic portraits have.
Room after room show how prolific and varied Hockney has been. He has transitioned mediums, methods, locations – at first it barely feels like the same artist's work. However, through each richly coloured room, Hockney – the character, the man – is trying to share his own view and observation. In that one beautiful moment. This is becomes so clear that in his photographs the tips of his polished brogues show his exact position. It feels like he is trying to say, 'Look at this, look what I saw. Can you see it? Can you see it how it really was?' Over and over again. Painting by painting. Frame by frame. Hockney pulls you in.
Standing in a crowded exhibit, I am transported. Today he is sharing an afternoon with me. One of those afternoons where the sun never seems to leave the sky, the breeze is just so. The window gently bumps against its frame as everything around you is basking in the beauty of the day.
The first room is full of paintings from his time in California as a young man. They are backed in heat, as if the moisture has been drained from the paint almost before it has touched the canvas. Deep, dusty square scenes, full of rectangles. There is just enough abstraction to feel like a surreal dream, you look through the eyes of 20-something David, starting to piece the world together. Desperate to share the beauty and intensity of his experiences.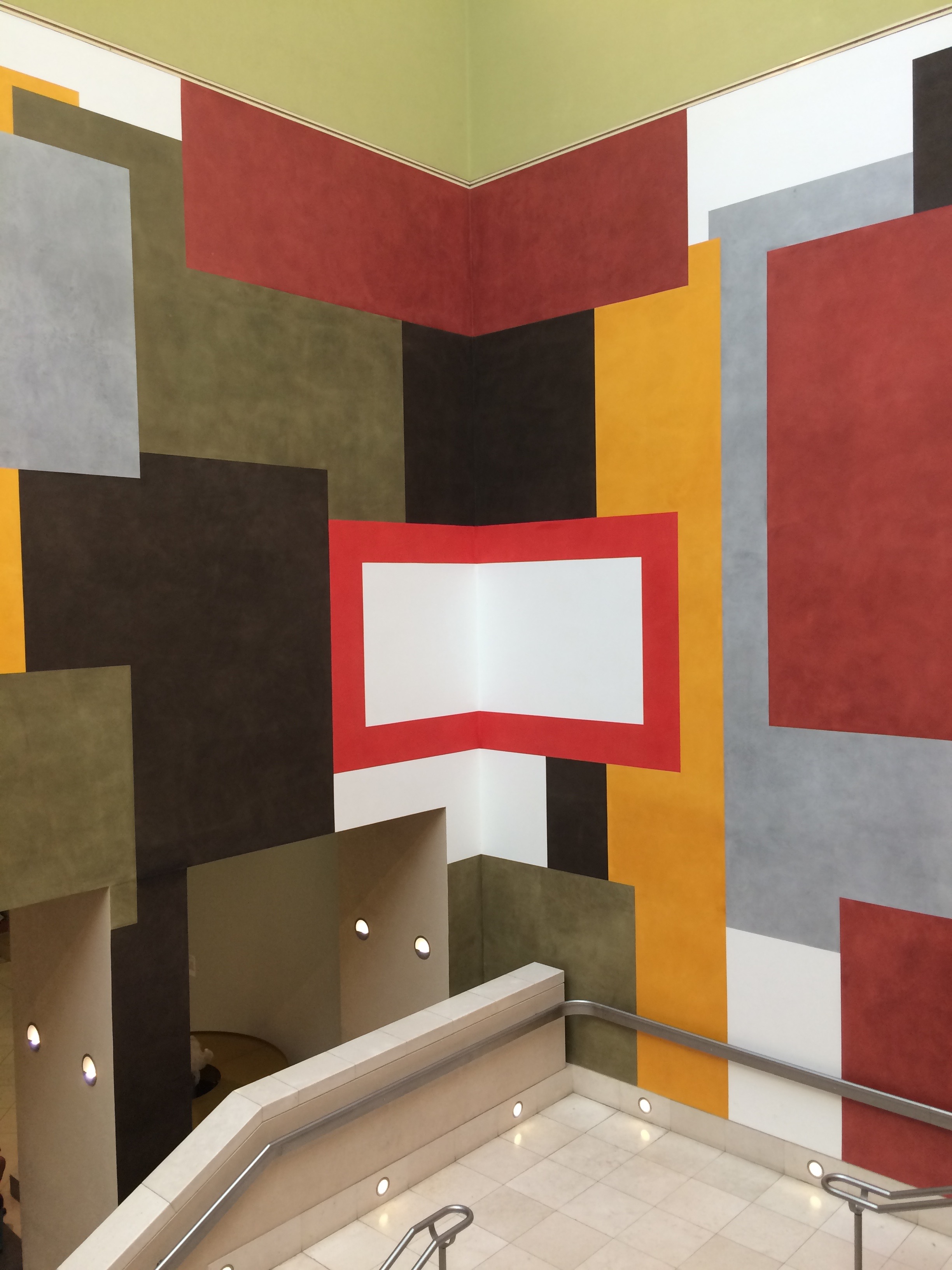 The pastels of California turn to French doors and parquet floors of France, a deeper palette, a sharper style, reflections are clear in the shine of the floor. On again to somewhere more exotic, the structure shifts, and the shapes blur slightly. Leaves and plants stand large, in swarms. Bright greens, yellows, reds, take you to a different place through familiar eyes. There is an unfinished quality to some pieces, the canvas visible through the paint – giving the sense that the moment was so quick, thats as far as the paint could go.
A painter sharing their perspective of beauty is a fairly straight forward definition of most art. What sets Hockney apart is how adaptive he is. He crosses mediums seamlessly, playing with shape, collage and mosaic in his work as if it is second nature to chop up the scene.
As Hockney comes to know himself with age, he finds the hardest beauty to describe. Room after room are dedicated to Hockney's home. The country roads of Yorkshire. The style changes from hedge rows that twist and writhe as if Lewis Carroll or JK Rowling have written them into life. Winds sweep through the rooms carrying me through seasons, and down miles of country lanes. Every one of them personal, urgent, and unique.
The masterpiece of the exhibit is a video installation. Displayed on a mosaic of screens, Hockney invites you to travel down a beautiful stretch of wooded laneway in spring, summer, winter and fall – serene, and masterly in its composition. As the video moves slowly down the straight it is impossible not to look down the path that leads off to the right – to the wall, and out of wonderland. Reminding you Pimlico, for all its beauty – is no Yorkshire.
By the end of the exhibit I am complete in awe of the work. The talent – of course, but also the time, and the evolution that goes into Hockney's work. He seems to live to share what he sees. So much so, he has taken up drawing what he can see from his bed, and his bedroom window on his iPad.
The exhibit has come to mind often since my visit. More than anything it is a reminder that while our perspective might be formed by our experiences; the way we communicate – our medium – we get to choose that. And we should keep trying new ones.
You can read more about David Hockney at http://www.hockneypictures.com/