Food, like all things that form a building block of our social culture, is subject to the whims of change. With each passing decade our gastronomical culture undergoes something of an overhaul. New ideas and even new inventions arrive to act as the catalyst to what swiftly becomes a mass movement. If you find yourself over the age of twenty-five then it is likely you've already participated in the age of the ready meal, helped fast-food chains take a dominant place on our high streets and contributed to the rise of coffee orders that contain a mass of disjointed words, none of which are actually 'coffee'.
The movement du-jour this decade is undoubtedly one of 'wellness'. Brought about perhaps by a better understanding of the way in which the food we eat reacts with our bodies, our food culture has never been more focused on eating healthily. One could argue it is in fact a simplistic return to form for us as humans; a return to the days of eating because it was what our bodies required to survive. Somewhere along the line our attitude towards food shifted from that of necessity to unchecked desire.
Our body does not tell us we need cake. We eat cake because we want to eat cake, and there is absolutely nothing wrong with that desire, so long as it lives alongside an awareness of self. It is, as they so very often say, perhaps an 'everything in moderation' approach that will serve you best.
As we begin to understand the correlation between what we put into our bodies and the way they feel and function as a result, the gastronomical world around us saw an opportunity. A new movement was born. You can delve as far into the culture of eating 'clean' as you wish to, it is after all your body that stands to benefit from it, or you can make smaller changes to your diet and routine.
While this movement snowballs in one direction, the Danish art of hygge began its own march into our psyche. In the simplest of terms, hygge can be defined as the act of enjoying life, reviling in the act of taking pleasure in life's smaller joys. Indulgence in the culinary sense is key to the idea. Sit by the fire, watch the flames, eat the bundt cake and fully take in the enjoyment of simply being at one with yourself and your surroundings.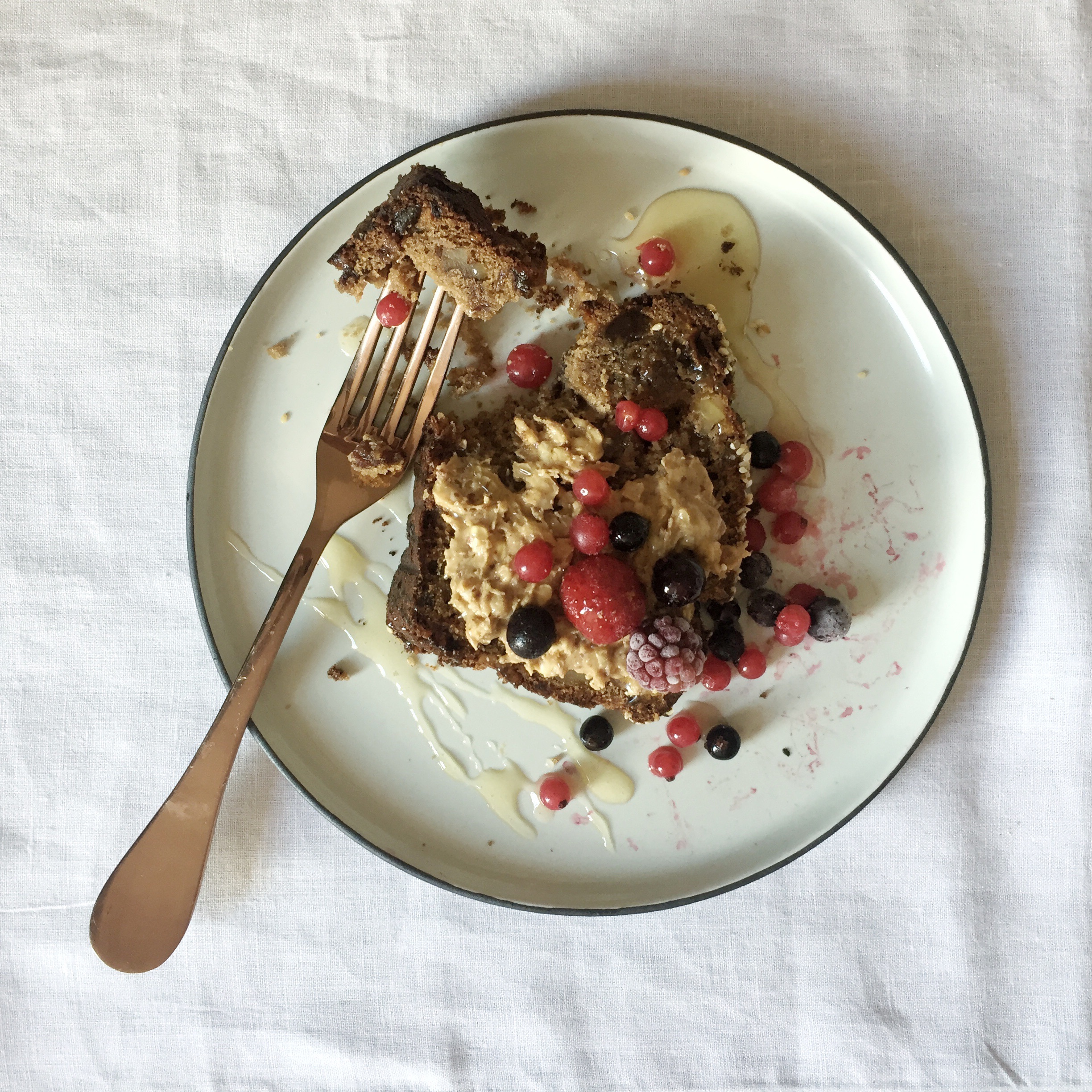 This is where we serve you a curve ball. What if you could live in both worlds? Apply the finest points of each movement and live in contentment both in mind and in body? Simple changes in the way we go about eating and indulging can be applied to find the happy medium. From shifting refined ingredients to natural, unprocessed variants we can live a healthier lifestyle without sacrificing the comforts that make our down-time enjoyable. Let's toe the line, bridge the gap between the two, start our own mass movement. Eat the cake, just make it the best it can possibly be for our bodies.
We all know in almost every guise cake will not nourish us, but we can lessen the negative effects it can have. Looking to spelt flour can remove the potential irritation other wheat products can bring to our systems, whilst also bringing with it a rich nutty flavour than can only go to enhance the natural sweetness of banana, making roughly chopped walnuts well and truly at home in a loaf cake.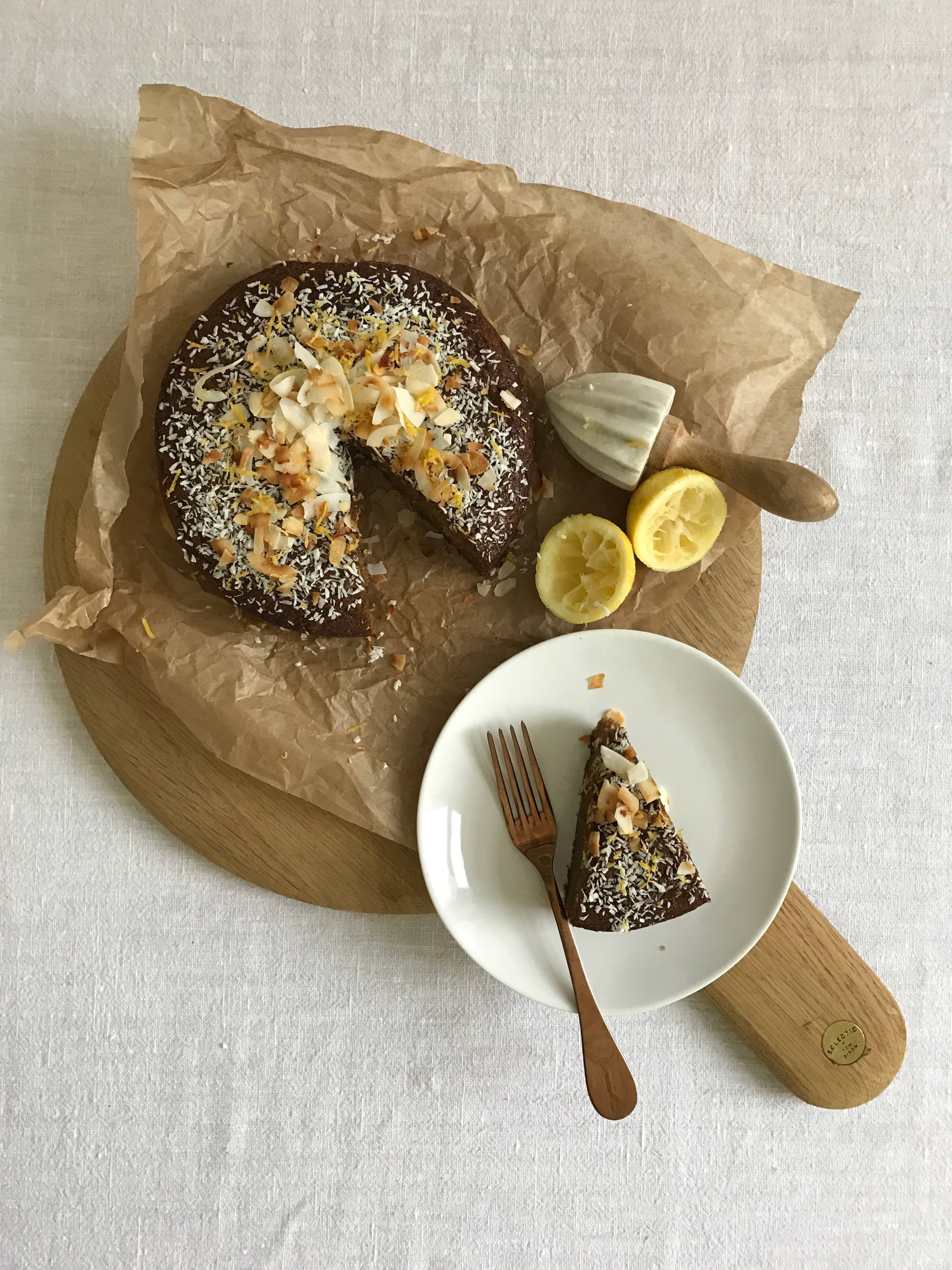 In place of refined sugars look to alternative sources of sweetness, the market is most certainly not lacking in these of late. Date syrup, maple syrup, gourmet honey, coconut palm sugar… So many options but all entirely born from nature, unrefined, processes to an absolute minimum. Enjoy the sweet, comforting feeling a cake can deliver on a rainy Sunday afternoon. Surely it is only all the more satisfying when it comes teamed with the knowledge that our body has at least taken beneficial nutrients on board?
———————————–
Banana, Walnut & Honey Loaf
3 Ripe bananas
120g Coconut palm sugar
30g Runny honey
2 Eggs, lightly beaten
135g Wholegrain spelt flour (Or GF alternative such as Buckwheat)
1/2 tsp Salt
1/2 tsp Bicarb of soda
70g Roughly chopped walnuts
25g Butter, melted & set to one side (For DF use coconut oil)
Preheat the oven to 180C/350F/Gas Mark 4 & line a 900g loaf tin.
Mash the bananas in a bowl before adding in the sugar and eggs. Mix together well. Add in the flour, salt, bicarb & walnuts. Finally stir in the melted butter (or coconut oil) before pouring into the tin.
Bake for 50 minutes until rise and golden brown on top. Leave to cool on a wire rack before slicing.
Serve with blueberry compote – add blueberries & honey to a pan and reduce on a moderate heat until jam-like.