Cereal magazine is known for its spare design that allows attention to flow onto its well deserving content. Photography with a limited palette and lots of un-inked space make this lifestyle biannual an exception in the world of publishing. We had the pleasure of speaking with co-founder Rich Stapleton, who is a photographer and Cereal's creative director. Here we find out how he strikes the perfect balance, while maintaining unerring standards.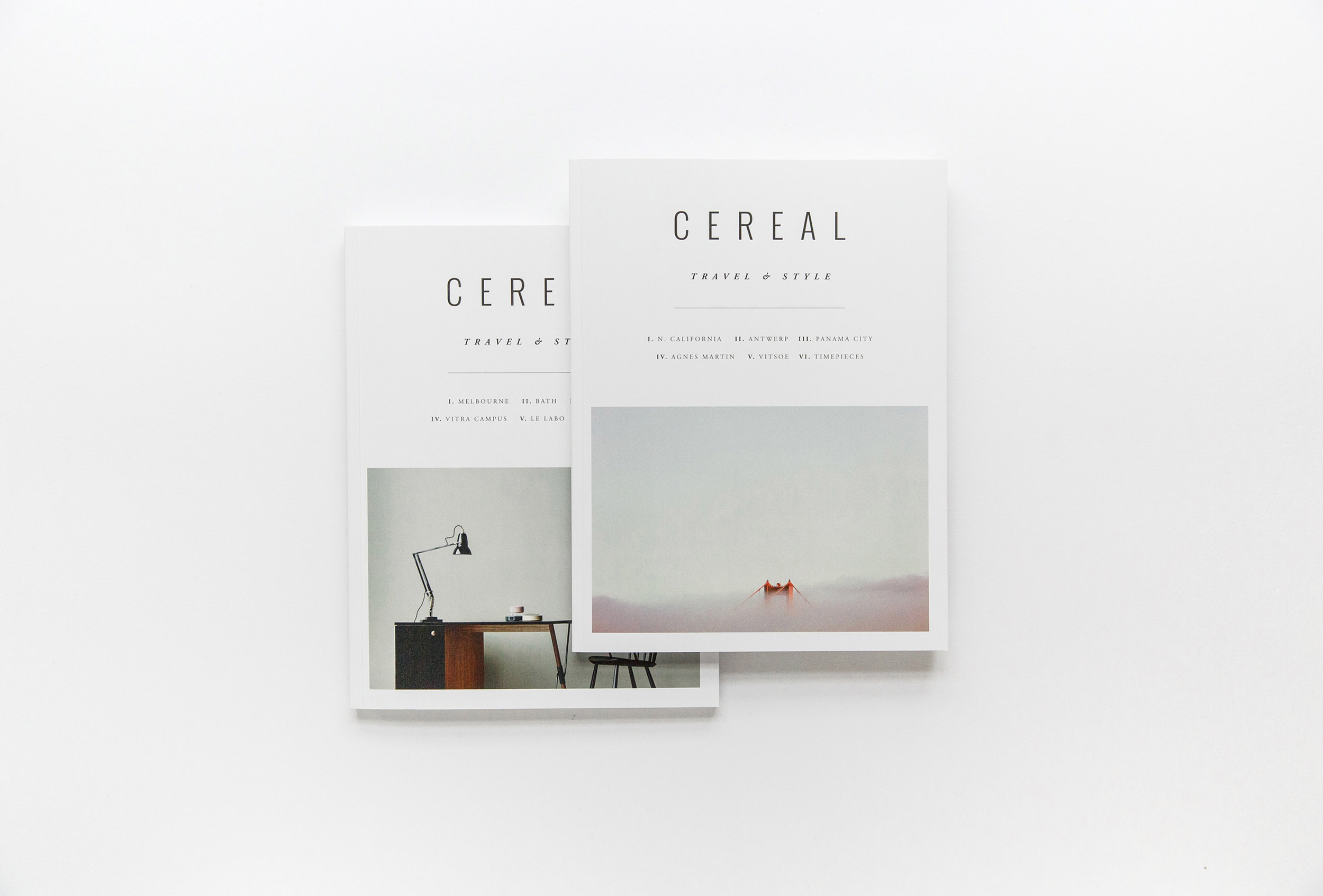 New Heroes & Pioneers: Your artistic, professional and personal choices seem to be inspired by minimalism as an ethos. If you feel that is a fair assessment, could you share how personally you have come to be so devoted to this movement, and how it continues to renew itself as a source of inspiration?
Rich: I think that is a fair assessment, although I wouldn't personally label my aesthetic sensibilities as minimalist. From photography to fashion, I am always simply looking for an unfussy approach, to give the subject focus. Saying that, there are those who are typically classed under the moniker of minimalism that have been a great inspiration to me; these include artists such as Agnes Martin and Donald Judd and architects like John Pawson and Mies Van De Rohe.
If I had to place a starting point on the development of this ideology in me, I would have to say it was during my university degree, which was in mechanical engineering. Here, the goal is always to find the most elegant solution to a complex problem. The simpler and more effective the solution, the better. I think this method can be applied to anything really, certainly design and photography.
Your colour pallete is a defining hallmark of your work, especially in your photography; associated as well with each particular destination in which you travel to. How do you relate to this component of creativity?
Everybody views the world in a slightly different way. The colour palette observed in my images is simply the result of my specific vision, the way I see the surrounding landscape through the lens of my camera. The same can be said for framing and subject matter. These three components work in collaboration to give my images a particular look and feel. When I travel, I am always looking to my environment for the elements and aspects of the destination that appeal to these values.
You have so many interests- design, art direction, publishing, photography- I am curious how you manage to keep it all on point- it must require a lot of focus to maintain such excellent standards. Is there a trick you have found for making it all happen?
I find the trick is to let one interest influence the other, and not try to compartmentalise them.  All of these principles are directly related, and many of them feed off and flow into each other. Photography informs design and design informs photography, for instance.
Could you share with our readers, many of whom are also creative entrepreneurs, what you envision next on the horizon? For you personally, as well as the magazine.
Both myself and Rosa will be releasing personal projects over the coming year. We value the strength of independence as much as we do togetherness, and aim to realize this in part through exploring our own individual creative desires. From a magazine perspective, we will continue to release volumes of considered content in the realms of travel and style, we will be releasing another guidebook, and also our first coffee table book, early next year.
Mentioning 'entrepreneurial creatives' which, in order to pull off successfully, is a very balanced performance between the left and right brain- if you agree, might you offer any insights on how this mindset is complimented or amplified with a minimalist ethos? 
I would say in many ways it is amplified, and this is one of the reasons Rosa and I have such distinct roles within the company. Complexity and complications arise when the left and right are at odds, when a creative decision conflicts with a business one. I have realised over time that while it is important to have a clear vision, you must be open and adaptable in every situation, and sometimes something you thought would negatively impact the creative direction, can actually have the opposite effect.
You have a team that you work closely with to get the magazine out. I wonder how you go about choosing collaborators, photographers … Is there any defined criteria you like your contributors to be able to bring to the table?
Creativity, vision, and consistency. Creativity from our contributors is essential, and from a photography perspective I love to see something original. Unfortunately, we all too often receive submissions that are an exact replica of a shoot we've already featured in the magazine.  Vision is in the execution. The best contributors know exactly what kinds of images work well for our magazine, and how to deliver these in an exciting way. And finally consistency – producing work to an exacting standard each and every time. It is better to submit 10 perfect images, than 50 average ones. These are some of the reasons we have continued to work with a select group of core contributors that we now know and trust. In each volume, we then tend to work with 2 or 3 new contributors, with the aim to develop these kinds of long-term creative relationships.
(Please do not feel obligated to answer if you feel it treads too much into the personal) You work with your partner Rosa in life and enterprise. Can you talk a little bit about how you and she make that a success? 
I do. As Rosa once (seriously) wrote in an email to a tourism board, "we are partners not only in work, but also in life". That made me laugh when I read it, but it's also a nice way to sum up our relationship. Whatever the complexities and complications of the work day, we return home together. This allows us to put any decisions and disagreements into perspective. It also helps that our office is in Bristol and our home is in Bath, as it there is a physical partition between the two. At home in Bath, we go for long evening walks, read books and sometimes paint to relax.
You've been to quite a few places. Which places continue to beckon you back and why?
I remember growing up, that for our family holidays we would return to the same place in southern France year upon year. There is certainly comfort in that. But while I am (relatively) young and healthy, I endeavor to explore and see as much of the world as I can. In decades to come, perhaps I will look back with fond memories, and will return to my favorite destinations. At the moment, if I had to choose, these would be Palm Springs (for the Architecture), Antwerp (for interior design), the Maldives (for the beaches and the colour of the ocean), Naoshima (for Art), White Sands, New Mexico (for the Landscape), and almost everywhere in Italy (for the food and wine).
What accomplishment in your life has given you the most satisfaction?
Completing a masters degree in engineering was an important mark for me, as was launching the first volume of Cereal.  A recent accomplishment that provided me a great deal of satisfaction was a nod from Dieter Rams. The team at Vitsoe told me that on a visit to the factory, Dieter had read a copy of Cereal and commented that he appreciated the magazine's photography and overall feel. It's a small thing, but as a design hero of mine, this was very rewarding.
What advice would you have to offer to other creative entrepreneurs who want to realise their dreams?
That there is no magic answer. There isn't even a right one. You just have to get out there and do it.  Don't read the how to books, they'll just tell you how its already being done. Better to have no idea and be disruptive than be clued up and predictable, in my opinion.
Lastly, What are you loving these days (besides the new B&O wireless headphones which make me feel just a little bit covetous! So svelte and classy.)
I'm also loving BAO (a restaurant in London), the work of Peter Joseph (an English artist who's studio I visited recently), the scent of Charcoal, (a fragrance by Perfumer H), and the book: "Luigi Ghirri, the complete essays 1973-1991", a wonderful collection of writing on the subject of photography.
From us at NH&P, we thank you Rich for your time and for sharing your thoughts and ideas. Thanks to you and Rosa for your view on the world. It's a beauty. Cereal's latest edition, Volume Twelve, has just been released. Get it here (You can also find their original and well curated city guide recommendations):
You can stay connected with Cereal and Rich here:
Rich's ig: rvstapleton
Cereal ig: @cerealmag