Istanbul has long been conceptualised as the bridge between East and West. Mild-mannered visitors who have Murder on the Orient Express in their subconscious used to limit their tours to the Old Town area with the satisfaction of exploring the 'authenticity' of this exotic metropolis.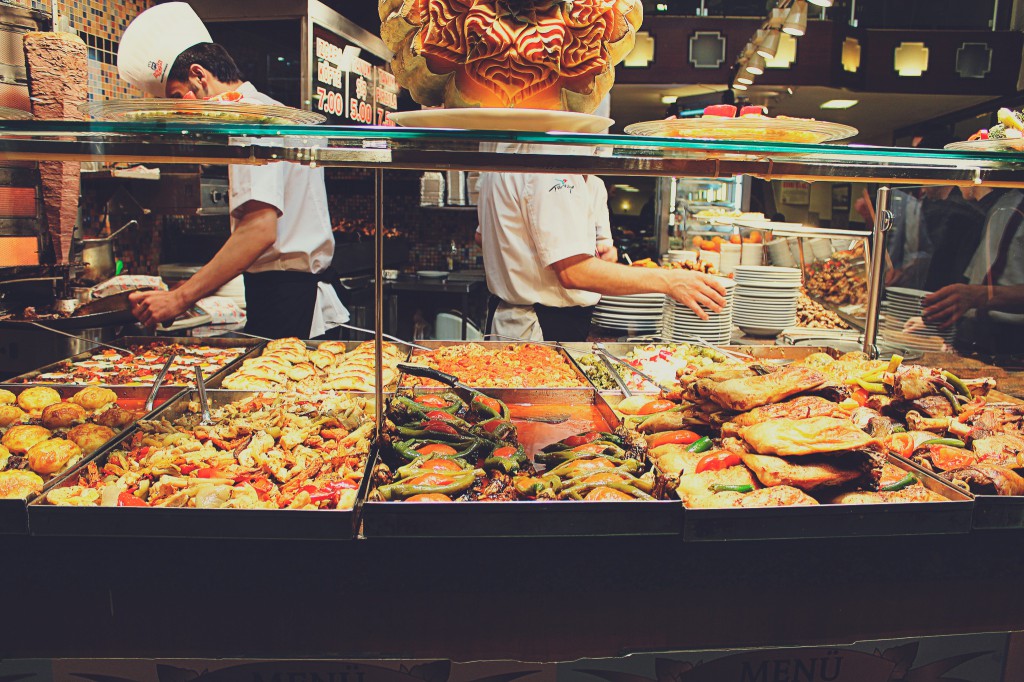 While tourists were taking pictures in Hagia Sophia, the locals were drinking coffee in Starbucks, working in some of the highest skyscrapers in Europe, enjoying Asian food and dancing to dubstep in underground clubs. In short, Istanbul has become a neoliberal global city and one of the hippest destinations – even Newsweek magazine declared it as 'the coolest city in the world'.
Whether you're fresh back from a visit or an ex-pat who has set up basecamp there, you'll almost certainly nod to the claim that it has one of the liveliest nightlife scenes you've experienced.
But as a new dawn beckons the party reaches the munchies-stage, and one should not be lazy by entering international food chains for that quick hunger pang remedy. Instead, follow the locals to the hidden corners to explore the unique late-night feasts of Istanbul.
Here are our Top 5 recommendations and the best places to find them. Do not forget, a golden rule of being an Istanbulite is to eat well, so now you can do it local style!
1
Çorba
What: Çorba means 'soup', and eating soup after a heavy-drinking night has been a tradition in Istanbul since the Ottoman times. There are two types of classic late-night broths: lentil-based Mercimek, which will satisfy more than just vegetarians. It is filling and with a consistency that will help your stomach recover. The second is işkembe, a tripe soup that is believed to be the best hangover remedy. It might not be everyone's cup of tea with its strong garlic and vinegary taste, but definitely recommended for brave party carnivores.
Where: Going to a soup house in the morning to get your energy back is an Istanbul tradition. You can have a bowl of warm çorba at Tarihi Cumhuriyet İşkembe Salonu, a joint that celebrated its 80th birthday last year. It is popular amongst the local artists as well as university students. Company your soup with bread and pickles that are on the house and order soda (mineral water) for digestion. It is open until 5.00am.
Tarihi Cumhuriyet İşkembe Salonu
Duduodaları Sokak No: 25
Beyoğlu
2

Mantı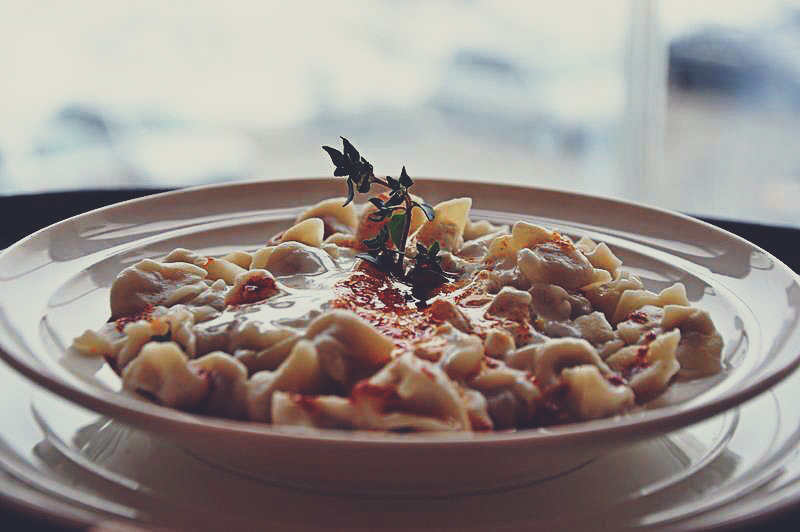 What: Mantı are bite-sized boiled dumplings filled with ground beef and served with garlic yoghurt and paprika-spiced melted butter. Might sound like a carb-attack, but it is lighter than expected.
Where: If you partied at one of the outdoor clubs on the sea by the Bosporus, you can finish the night at Bodrum Mantı. It specialises in dumplings and serves different varieties. Vegetarians can try the spinach filling and those who are craving for a fatty and salty treat can choose the fried option. While you are enjoying the last bite of your plate, you will be served complimentary Turkish tea and bebek helva (Turkish waffle with cherry marmalade). Open 24/7.
Bodrum Mantı
Arnavutköy 1.Cadde
No: 111
Arnavutköy
3
Kokoreç
What: This might be one of the most unappreciated specialties amongst the tourists because of its main ingredient – wood-fire roasted lamb intestines! The meat is mixed with chopped tomatoes, onions and bell peppers, seasoned with oregano and paprika and served in warm white bread. When no one knows what is in the sausages we eat, Istanbulites think that it is unfair to downgrade kokoreç to the yucky-category.
Where: To perform your adaptation test to Istanbul culture, go to Şampiyon and do it as the locals do. Order a çeyrek kokoreç (in quarter of bread), a çeyrek midye tava (fried mussels with tartar sauce in bread) and a portion of midye dolma (spicy rice-stuffed mussels with lemon). Now you are accepted to the club, you can sleep in peace with a filled tummy. This celebrity hub is open until 4.00am.
Şampiyon Kokoreç
Hüseyinağa Mahallesi
Sahne Sokak
No: 3, Beyoğlu
4
Pilav
What: Pilav is a rice dish cooked in butter and seasoned broth. If potato is the backbone of the European platters, pilav is the same for Turkey. Eating pilav with boiled pulled chicken or beans/chickpeas was taken out from home kitchens and brought to the streets a long time ago. Once considered to be a low class street food, it is nowadays a celebrated late-night dish among the party people.
Where: You have to ask for the pilav guy at İMÇ Çarşısı, trust us! He was selling pilav in his trolley on the main road to the city's Fatih district and has always been popular with the late-night eaters. His rice became a must-eat when the superstar loved inTurkey became an addict of his rice platters. Imagine that – Tina Turner cannot do without your street food, wouldn't you be proud? Now 'the guy' has opened a restaurant on the same street. Choose the chickpeas option if you are vegetarian and have a glass of ayran (yoghurt drink) that goes just right with this dish. Open 24/7.
Meşhur Unkapanı 2 İMÇ Pilavcısı
Keyci Hatun Mahallesi
Haseki Caddesi
Fatih
5
Islak Hamburger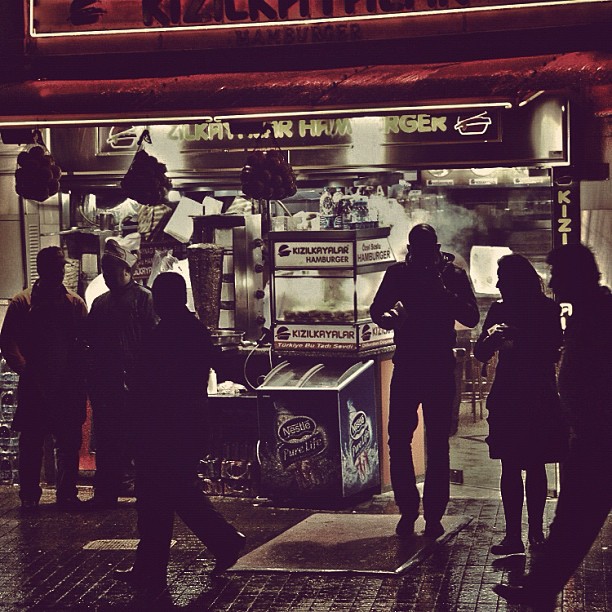 What: It can be literally translated as 'wet-burger'. These mini beef burgers suck in garlic-tomato sauce and are served in a fluffy bun after being steamed in a glass drawer. As a result you eat a soft and juicy burger that you can only find in Istanbul. It is one of the best yet cheapest street foods you can find here.
Where: There is only one place that you can eat the original recipe and it is strongly advised not to try it in copy-cat places. Go to Kızılkayalar at the beginning of the İstiklal Street and enjoy several of these burgers while standing outside of the little shop. The classic combo is having a glass of atom with your burgers (freshly squeezed apple-carrot-banana-orange juice sweetened with honey). Open 24/7 to satiate at any hour.
Kızılkayalar
Sıraselviler Cad.
No: 6
Beyoğlu