now in only its twelfth year, yet undoubtedly epitomising the 1880 intention of the gardens' creator – Augustus Pitt Rivers – as a place for 'public enlightenment and entertainment'; with a line-up arguably as expertly and fastidiously curated as one of his own ethnographic collections. The original bowling green replaced, for the weekend at least, by the ramped, double-laned, and virtually impossible 'boomerang bowling' alley, the lawn-tennis courts subverted by the absurd octagonal ping-pong 'thunderdrome', and the gardens filled with the relatively small crowd of just 18,000 – of which our group numbered 8.
The music got underway on Thursday evening; Yo La Tengo took to the main 'woods' stage, and after a somewhat self-indulgent ten minute sonic ramble opened their set we decided to leave them to it and headed for the bustle of the 'Tipi' tent, where the fuzzy-haired Kiran Leonard took us on a fuzz-rock adventure inspired by the likes of Nietzsche, James Joyce and Lake Windermere. From there we sauntered off to explore the rest of the festival site, reacquainting ourselves with the myriad winding pathways through the woods, before journeying 'home', which by this point it had already become, to our camp.
Friday began with a leisurely breakfast under our gazebo at 'camp camp', bellies full with the lentil dhal which was impressively created on no less than three camping stoves, we journeyed again to the Tipi where Stella Donnelly won us over with her unique genre of 'thrush metal' – sincere, heart-felt and funny, we didn't share her surprise at her music making it beyond her original expected audience of just her 'mum and 28 mates'. Lucy Dacus was next on the main stage, cue synchronised swaying, a little light, but no less lovely melancholy, and the almost purchase of tickets to her upcoming UK tour to accompany our post-set flat whites. One of the girls behind the counter at the bakery scribbled Big Thief on the back of her hand on our recommendation, which is where we were headed next, but not before being left totally perplexed by The Low Anthem's bizzare platypus-inspired new direction. Although the sound was a little off, the band stumbled through their set which at points lived up to high-expectations, and everyone agreed with Lenker's sentiment that 'whatever your tastes, whatever you don't like – there's people here just expressing themselves', which was a good thing. St Vincent closed the main-stage in her trademark style, with a slick, spectacularly produced performance. We took the long way back to camp – via the delights of the light-up dancefloor of the woodland disco, the nanna's-front-room-style piano stage where fellow festival-goer Ollie was leading an enthusiastic crowd through some sing-along hits, and the hot cider, and vinyl-spinning DJ, of the cider bus where we met 'Dan… like Daniel'. It was time for bed.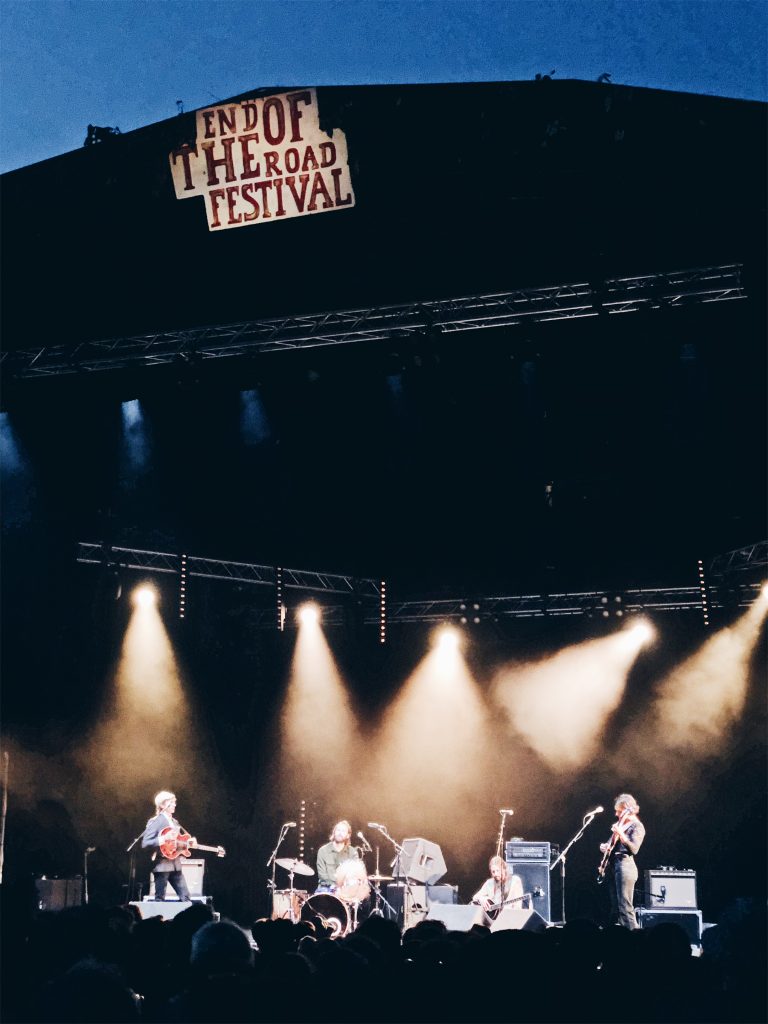 After a modest, far-too-early-in-the-morning-for-thisdebate over which was noun and which was adjective in 'camp camp', which was never fully resolved, some of us opted for a morning yoga session (my first, and although not unpleasant, probably last excursion therein), others decided queuing for a shower was a more worthwhile pursuit. Omar Souleyman got Saturday's dancing started with his up-beat dabke music, from which we left the Woods stage and Syria behind and journeyed to Ethiopia with the help of Mulatu Astatke and his band who jazzed up a frenzy over in the Garden, and then took a brief time-out with a secret set from Josh T. Pearson at the piano stage; dark, yet often comic, filled with equally sombre ruminations on his life such as the year his guitar spent more time in the pawn-shop than it did in his possession. Vampire Weekend left everyone with a smile on their face, speeding through hits, but still managing to find time for an ad-hoc Q&A session with the crowd, as well as a fleeting, almostgeographically fitting, rendition of Peter Gabriel's 'Solsbury Hill', a set which culminated with a group of audience members being invited on the stage to dance along to their final track – one popping wheelies in a wheelchair.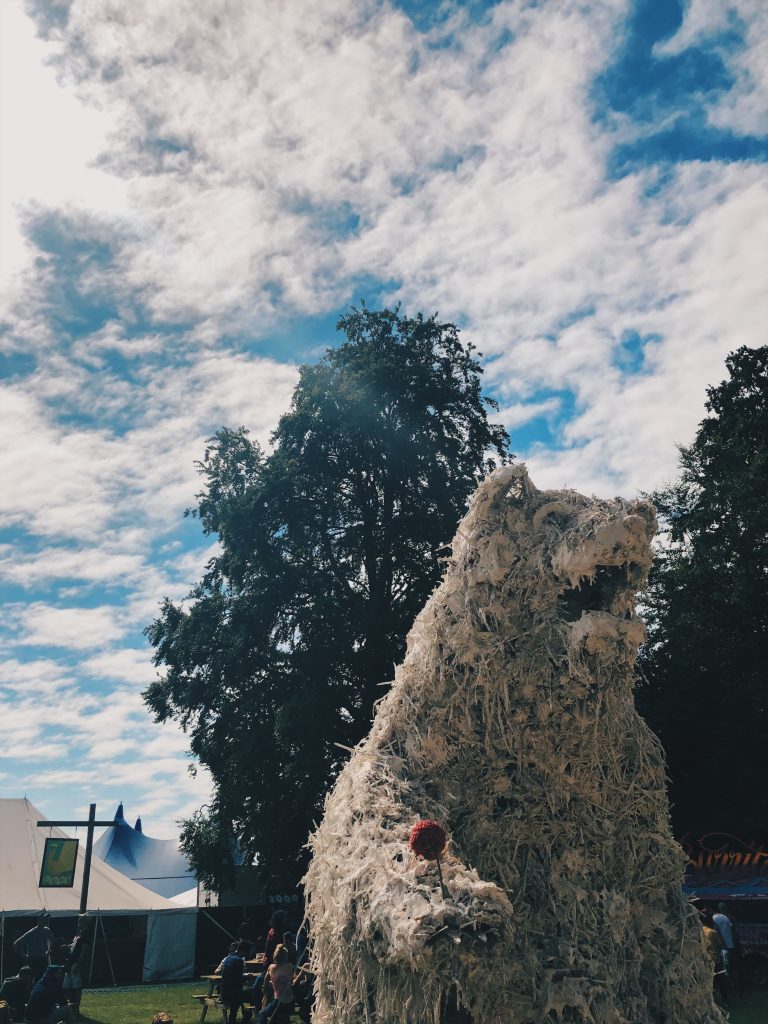 Before we knew it, Sunday, and the final day of the festival was upon us. Richard Dawson with his unique medieval-folk, which at times teeters on the edge of outsider-music, style started the proceedings, a performance full of his Geordie charm and wit, and so packed that he barely gave himself time to catch breath between songs. The camp was split for the afternoon – some went for the Algerian Tuareg rockers Imarhan on the main-stage; complete with native dress and unusual instruments, whilst others crammed into the Tipi for David Thomas Broughton for a bit more avant-garde folk. Ezra Furman was the penultimate act down at the Woods, with a performance dedicated to all the 'boys, girls, and anyone who didn't fit into either category' which segued perfectly into the final billed act of the festival, Feist. Hypnotic and gimmick-free, she closed the festival in much the same way as it had begun for most of us there – smiles and more synchronised swaying. Despite her assertion that it was the last opportunity to pluck up the courage to tell the person we'd been staring at all weekend that 'no party's so sweet as a [tent] party of two' – I didn't, maybe some people did – maybe there's still time? A beautiful set filled with ethereal moments, led us all the way to the main stage curfew, but not before a brief solo encore.
We took one final stroll around the site, stumbled across the silent disco where a bizarre Billy Jean/Single Ladies mashup was being played out in front of the garden's 'Singing Theatre'. The hand-painted pastiche of Poussin's TheFuneral of Phocionprovided a fitting backdrop; despite small pockets of people who were seemingly oblivious – we were all too aware of what was in the foreground; the festival was quietly being carried away, and we went to bed with it – until next time anyway.
Playlist
Kiran Leonard – Unreflective Life
Stella Donnelly – Boys will be Boys
Lucy Dacus – Night Shift
Big Thief – Shark Smile
St Vincent – New York
Omar Souleyman – Ya Bnayya
Josh T Pearson – Straight at Me
Mulatu Astatke – Yèkèrmo Sèw
Vampire Weekend – Ya Hey
Richard Dawson – Beggar
Imarhan – Tahabort
David Thomas Broughton – Unmarked Grave
Ezra Furman – Suck the Blood from my Wound
Feist – Any Party