The title refers to her strict, military-style upbringing and her mother's inconceivable determination to "walk through walls" without ever sharing a word of complaint. Written in a meditative style it mirrors Marina's own rooted persona and offers insight into the mind and continuing journey of one of the most important performance artists of our time. In celebration of a life-time of eerily inspiring performance pieces such as her Rhythm series, her collaborations with Uwe "Ulay" Laysiepen and the deeply moving The Artist is Present at the MoMA in Manhattan, she has now published her memoir Walk Through Walls.
Every artistic medium requires a certain form of meditation, an energetic space creators get into in order to truly channel our inspirations and inner dialogues. This space allows the artist to bring their interior landscapes into the exterior world through the use of tangible materials, colours, melodies or, in the case of Marina Abramović, the human body and the power of the mind. The Serbian "grandmother of performance art" has spent a lifetime studying the duality of courage and vulnerability, excruciating pain and complete surrender and it is the dimension in-between she invites her audience to explore in performance pieces such as Thomas' Lips (1975) and The Artist is Present (2010). Craving the knowledge of the universe, Marina travelled the world to learn from the greatest teachers, including the Dalai Lama and Australia's Aboriginals. Her experiences and the wisdom she gained from such encounters can be felt through her work and her mesmerizing presence. Whether you've been fortunate enough to watch her live performances or have only ever witnessed her undeniable physical and mental strength through video footage, one thing is for certain: her intense gaze has the power to challenge your darkest emotions, your brightest spirits and your overall creative drive.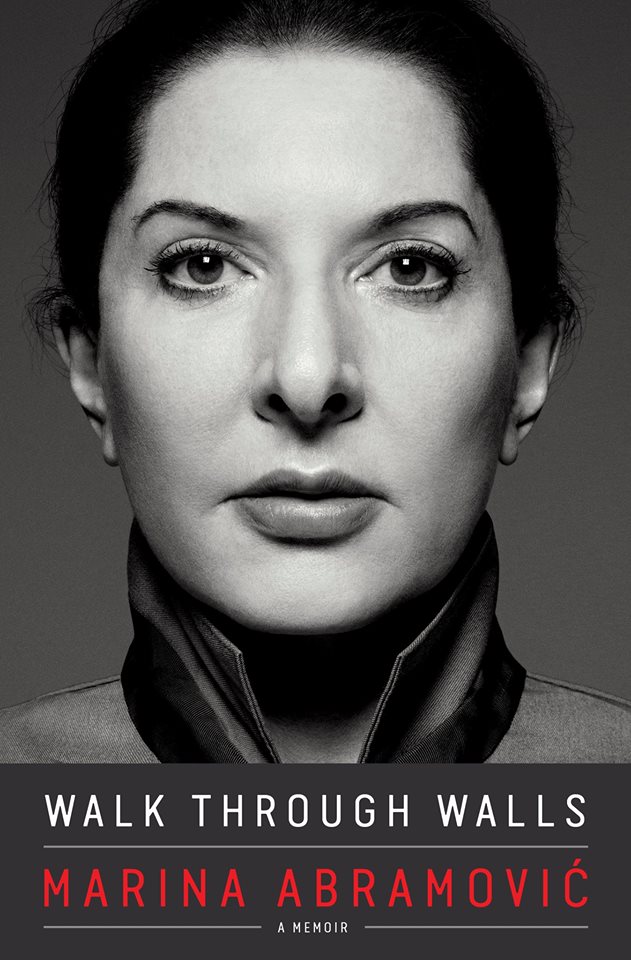 Marina's memoir Walk Through Walls opens to a dreary Belgrade of the late 1940's, where her "red bourgeoisie" Yugoslavian Partisans parents were celebrated as national heroes. Though she was cosseted educationally, culturally and, later, artistically, her upbringing was far from warm and fuzzy. Her mother brought her military attitudes into the family and would not tolerate anything other than meticulousness in every aspect of life, and it was Marina's will to break free from this rigid austerity that would ultimately shape the artist she is today. From childhood all the way to her late twenties, Marina was no stranger to pain and intimidation; her mother regularly beat her and she was on a strict 10pm curfew even after she had already married fellow performance-artist Neša Paripović in 1971. For her mother, the need to endure extreme pain was a matter of pride and honour. To Marina, the pain she puts herself through in her performance pieces serves an entirely different purpose.
By entering a very specific form of meditative mindfulness during her performances, she is able to enter a state of consciousness that allows her to detach from the physical body, allowing her to push herself to the very limit. In doing so, not only is she embracing every aspect of the performance on a level unreachable to many; she is also inviting the audience to become a part of her and the dangerously charged atmosphere surrounding her. Upon meeting the German photographer and performance artist Uwe "Ulay" Laysiepen in 1976 and engaging in a tumultuously passionate relationship with him, Marina felt they could further elevate their artistic mediums together. Their mutual fascination for the ego, artistic identity and male and female energies inspired some of the most provocative performance art pieces of the late seventies, including Relation in Space, Breathing In/Breathing Out and Rest Energy. Their collaborations all share common themes of trust, the human condition and "creating this third element we called that self—an energy not poisoned by ego, a melding of male and female that to me was the highest form of art." Their time together was intense, beautiful and often as raw and agonizing as Marina's art. As the eighties drew to a close, so did their relationship when they met half way on the Great Wall of China for their final piece together, The Lovers.
Marina's presence and continuing journey is as intimidating as it is soothing, and part of the intrigue is trying to fully understand her stoically pure approach to love, life and, above all, art. What we witness in her performances are the remnants of a communist past, an insatiable appetite for connection and a quenching desire to challenge her world and the people in it, but it is difficult to decipher what lies beyond those seemingly all-knowing, bewitching hazel eyes. Though she admits to a part of her that is doubtful, fearful and even self-deprecating, she stands by her decision to live for her performances even if it means facing a lonely existence.
Walk Through Walls brings us a step closer to understanding what moves Marina and how she balances her confrontational public performances with her personal self. Her story is as enthralling as any of her Rhythms and throughout each and every chapter you will truly feel the artist's presence seeping through the pages.
Just in time for the gift-giving season, Crown Archetype has released a limited, signed edition of Walk Through Walls encased in a chic red slipcase. The perfect gift for artists longing to infuse their creative being with Abramović's wisdom!
https://www.amazon.com/Through-Walls-Signed-Numbered-Collectors/dp/0804189803/ref=pd_sbs_14_t_1?_encoding=UTF8&psc=1&refRID=MSKZP01JXMV3S601DPRA