'Life imitating art' is a craft that is tricky to master. However, there is one Isle of Wight resident bucking this trend and creating a brand that seamlessly interweaves a considered, artistic style into their work and daily life – and most importantly, vice-versa. New Heroes & Pioneers took the opportunity to meet designer and artist Robin Lucas at his home, near Cowes, UK, to talk all things art, gardening and design.
Robin Lucas holds a few strings to his bow (to say the least). Interior designer, garden designer, illustrator and bespoke, graphic designer, Robin is on a persistent and consistent trajectory to encapsulate his work and life in a symbiotic relationship.
"I look at everything the same way – with fresh eyes – for me there is no difference between designing a garden, hosting a dinner party or drawing a wedding invitation. I think it's important to blend lifestyle and work, so I take the things I have learnt from the garden and apply them to my interior design, or look at the social life of a client to design them a garden that fits seamlessly into their lives"
And how does this transpire? Robin aims to create spaces that are accessible, useable and intertwining. His work would perhaps better suit the umbrella term of conceptual design, where a combination of elements including an understanding of the person, the environment, socio-cultural factors and style are all taken into consideration to generate an overall mood, design and living experience.
Today, the notion of 'concept' is extremely prevalent in the way we acquire and assimilate our style. I wanted to discuss the challenges of achieving this and how Robin manages to retain a consistency with his own personal 'style', whilst also catering to the disparate tastes of his clients.
I meet Robin at his home on the Isle of Wight. As we cascade down the gravel driveway, you instantly recognise some of the garden scenes captured on his social media accounts and realise that the images are not taken from some temporary, photography set but rather the scenes are very real, certainly living and growing in situ.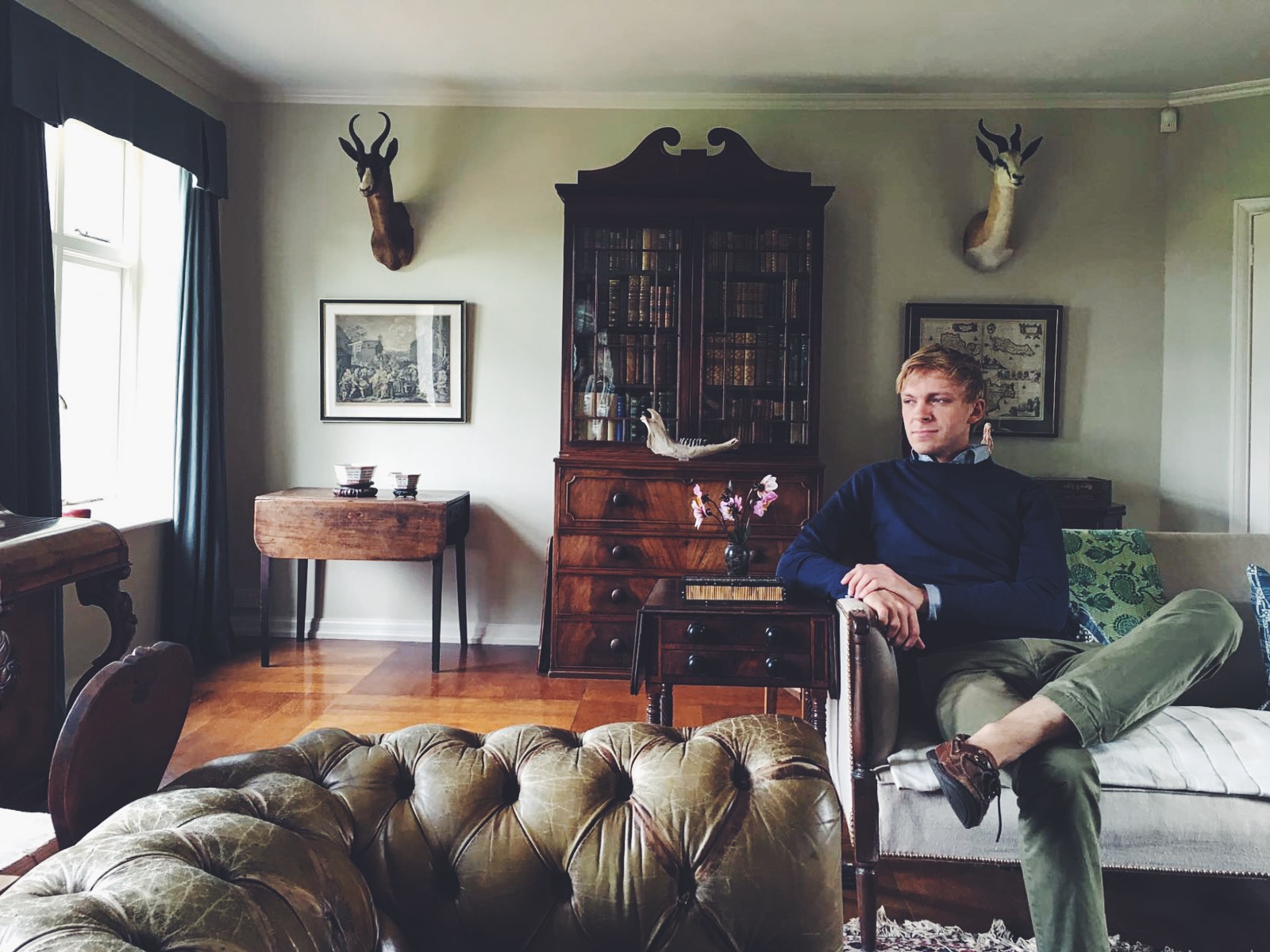 Robin has amassed a significant following across his social media platforms. And it is here that the designer first caught the eye of NH&P. "The house and garden has evolved so much in the past year", says Robin, as I am led on a tour of the extensive gardens. "Instagram offers the perfect platform for me to demonstrate the seasonal changes at home and how I integrate my projects and work into an overall product".
What is obvious, from first inspection of his media outlets, is that Robin has a passion for his craft, but a knowledgeable one at that. After reading Biology at St Catherine's College Oxford, Robin spent time at both 'The World of Interiors' and renowned London architectural antiques and design practice 'Jamb', before founding his own studio in 2015. This fundamental acuity to plant-life and design practice is essential to the notion of conceptual design and how he applies this to his own project planning, illustrations and art.
There is an underlying consistency and thought-through process and application to his work. His photography captivates an onlooker with its 'still life' qualities. Whilst his imagery may reflect a collection of hand-cut flowers and vegetables, these have (very realistically) been freshly picked from his working, kitchen garden. The line drawing of a gentleman enjoying a cocktail in a drawing room is both art and a reflection on the designs that he produces for his interiors. Conceptually this offers an explanation into the cohesiveness of design and "real-life" but also adjoins the branding of the Robin Lucas Studio and that it is a 'way of life' he is selling, as much as a cultivated scene or art piece.
And taking a slice of this lifestyle is what has attracted clients to ask Robin to create individually commissioned art pieces and stationary, to Orlebar Brown requesting a collection of line drawings and the formation of gardens to accompany period property to extremely contemporary spaces.
"I am conscious that I want to retain a nod to the classical when I design. But it is important that this is accompanied by a contemporary feel to offset any misconceptions of stuffiness", the designer tells me. "I believe in an approach that creates a natural dialogue between the interior and outdoor spaces and creating artwork that sits comfortably in its environment".
We sit for dinner and continue to discuss the merits of adopting design as a vehicle for reflective and art-induced living. It is impossible to not be convinced by this design process. Surrounded by newly picked dahlias, eating a salad of home-grown produce, in the comforts of a meticulously decorated dining room, it is as if I have stepped into a chalk drawing like in Mary Poppins and that life is truly imitating Robin's art.
NH&P are always on the lookout for extraordinary culture and to unearth the people that are doing something a little different. Robin is certainly a pioneer in his own sense. He believes in his aesthetic, he believes in his design vision and has earnestly implemented this in his own, and his clients, homes and lifestyles.
You can discover more about Robin Lucas and his work at www.robinlucasstudio.com or follow Robin on Instagram at @robinhhlucas